Now Open | New and Improved
The new and improved Robotic Joint Replacement Institute is now open!
The Robotic Joint Replacement Institute (RJRI) is open. If you or someone you know is suffering to complete day-to-day tasks due to joint pain, reach out to the Robotic Joint Replacement Institute. Not only does the medical director for this institute have extensive experience with robotic joint replacements, but this form of surgery is also linked to a quicker, less painful, and more accurate procedure process with less recovery time.
MAKO Robotic-Arm Assisted Technology
This technology helps surgeons provide patients with a personalized surgical experience. A 3D model of the patient's hip or knee will be used to pre-plan or assist the surgeon in performing the joint replacement surgery. Unlike all other local orthopaedic surgeons, surgeons at the Robotic Joint Replacement Institute don't only select a handful of patients to have robotic surgery. We see that each and every patient is worthy of an exceptional surgical process that results in less pain, less blood loss and quicker recovery. That is why our medical director, Dr Nayak is the area's top orthopaedic surgeon. If you are suffering from joint pain of the knee or hip and need to undergo surgery, Dr. Nayak is the doctor you want to see!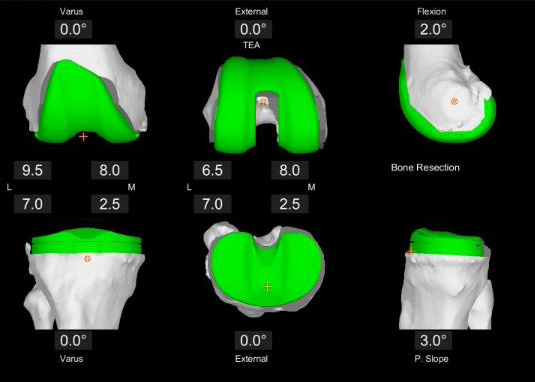 Unique Surgical Process
One way that surgeons can ensure that recovery runs smoothly is to utilize high-quality, advanced equipment. The Robotic Joint Replacement Institute uses robotic equipment for joint replacement surgery. This results in the precise removal of bone and the most accurate placement of the implant. Medical director, Dr. Nayak is an expert in using robotic joint replacement technology and has even trained hundreds of surgeons, locally and internationally on how to use this technology. His expertise results in better patient outcomes. Not only does this surgical process result in less blood loss, but data proves that joint replacement surgeries performed using robotic technology result in quicker and less painful recovery than traditional surgeries. Continue reading for information on how this technology is used in the operating room and to create accurate preoperative plans.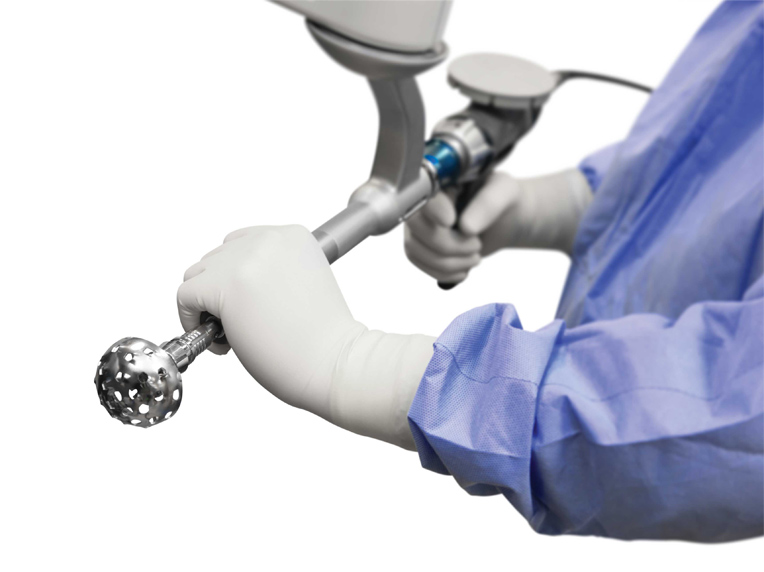 How The Mako Arm-Assisted Technology Works
All joint replacement surgeries work by removing damaged bone and cartilage and replacing it with an implant. However, the robotic technology used at the RJRI has a more precise and detailed surgical process that results in less painful and more accurate surgeries. The Mako-Robotic Arm Assisted Technology changes the way joint pain sufferers are treated by helping surgeons provide a personalized surgical experience with each plan based on the patient's exact anatomy and needs. This allows the surgeon to preoperatively plan more accurately and minimize risks during surgery. Before surgery, a CT scan is taken to generate a virtual model of the patient's unique anatomy. The surgeon then generates a personalized preoperative plan based on the 3-D model. During surgery, the surgeon will register the anatomy of the patient to the 3-D model. In surgery, the robotic tool helps guide the surgeon in removing an accurate amount of bone and putting the implant in the perfect spot for the patient. The robotic tool helps prevent the surgeon from removing too much or too little of the damaged bone. When the diseased bone is gone, the implant is added to the joint and the patient will begin the healing and recovery process where they will also begin to strengthen the joint. The opioid-sparing, minimally invasive, outpatient joint replacement surgery with customized 3-D surgical planning combined with precise robotic-assisted surgery results in faster, less painful recovery. This allows the patient the ability to heal in the comfort and safety of their own home to keep them out of the hospital.
That is where OrthoVitals comes in. OrthoVitals is an incredible virtual portal between the patient and the medical staff that allows the medical staff to oversee the patient's symptoms, complications, and pain points while accurately monitoring their health. This allows the patient to rebuild strength and recover in the safety and comfort of their own home. Learn more about OrthoVitals by visiting https://www.orthovitals.com/.

Schedule an Appointment Today
For all appointments and inquiries, please call (513) 924-3502 or click here to request an appointment online. To request an appointment online, simply click the link above and fill in your information on the contact link. We will get back to you as soon as possible.
Office Hours (By Appointment Only)
Monday, 7:30am - 6:00pm
Thursday, 7:30am - 6:00pm
Friday, 8:00am -3:00pm
For more information visit https://www.drsureshnayak.com/ Be sure to follow Dr. Suresh Nayak on Facebook and Instagram.